VoiceCyber is honored to be selected in the <The Gartner Customer Service Technology Vendor Guide, 2019> published by the worldwide popular information technology research and consulting company, Gartner, Inc. This is another milestone for VoiceCyber to be selected again in the Gartner Magic Quadrant after the last selection in 2015.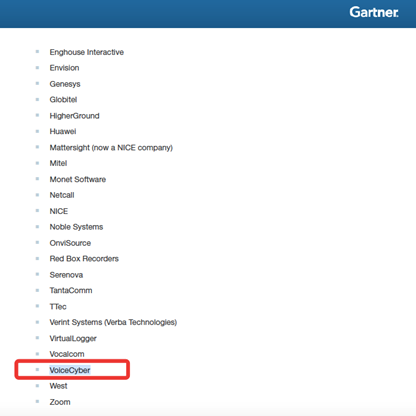 As stated by the Gartner analyst, the quality management software market encompasses applications for on-demand, selective and full-time recording of customer audio interactions, as well as screen capture of agent desktop activity. The vendors in this market also provide call evaluation tools, online monitoring tools for joining live calls, and speech analytics for audio insight. These tools are traditionally used for compliance and quality purposes.
The customer interaction intelligent management solution of VoiceCyber able to help company to boost sale targets and formulate business strategy by analyze and mine recorded data with artificial intelligence technology integration. The authenticity, completeness, and security of recorded data are ensured during the process of data mining and data analysis.
Gartner Introduction
Gartner, Inc is a technological research and consulting firm based in Stamford, Connecticut, founded in 1979. It conducts research on technology and shares this research both through private consulting as well as executive programs and conferences. Research that is focusing on IT industry for research, development, evaluation, application that will eventually provide an objective and fair argumentation report and market research report to clients. Gartner's private consultation and recommendation will provide important information for decision makers in risk management, marketing strategy, development direction, etc.
VoiceCyber Introduction
VoiceCyber was established in 2001, is a solution provider that focusing on communication recording, data mining and artificial intelligence application. Product coverage included contact center voice recording, video recording, screen recording, intelligent inspection, business intelligence, artificial intelligence, etc. Our solution users covered industries such as banking, insurance, fund management, government service, telecommunications, public utility, public security, power and energy, transportation, and other industries. Company headquarter was established in Shanghai, subsidiary companies were established in Beijing, Guangzhou, Shenzhen, Chengdu and Changsha. Sales and services network are spread all over the world including Shanghai, Beijing, Guangzhou, Shenzhen, Chengdu, Hong Kong, Tokyo, and Kuala Lumpur.