Nowadays, the development of new interactive channels such as instant messaging, social media, e-mail, corporate blog, video interaction, unified communication and office automation is emerging along with the import of new technology such as mobile application, SIP video and WebRTC. Therefore, customer interactions based on the computer desktop and video value-added applications that attached to the 4K video screen are increasing rapidly. Hence, to record the entire process of voice, text, video interactions between agents and customers has been essential to contact center.
VoiceCyber recently released a new generation of contact center home agent client voice, video, screen recording product- VCLog SoIP v3.3. This product able record every customer interaction process including voice interaction, screen operation and video interaction through a multi-dimensional recording method. This ensure an intuitive view of the behavior performance and emotional expression of agents during the interaction between agents and customers.
VCLog SoIP is using technology based on the underlying screen data interface of Windows agent computer, GPU codec and WebSocket while integrating with the self-developed image data dynamic storage algorithm. Synchronous recording and video monitoring for the voice and camera of remote agent computer are added on the basis of the single agent screen recording feature. Recorded files can be uploaded to headquarter for centralized management and storage.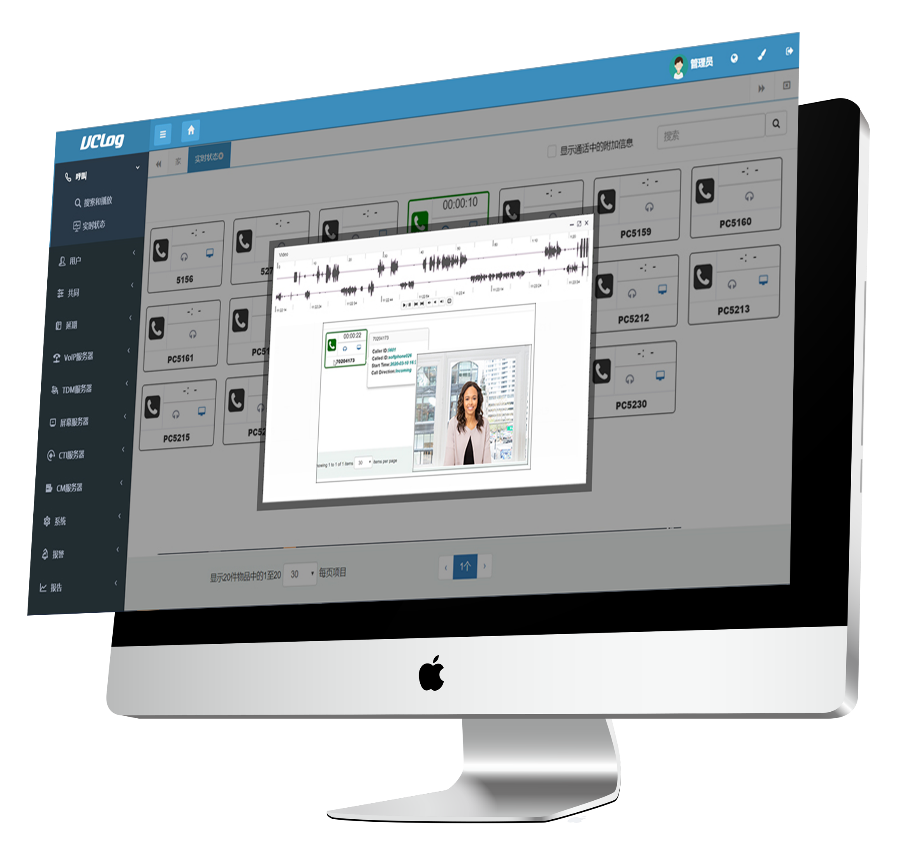 Fully Embrace Cloud Era:
Support cloud desktop
Cross-Operating System: Windows; Linux
Cross-Browser: HTML5 architecture, no plugins required
Fully Improve System Features:
Support WebSocket to preform multiple screens live monitoring
Support multiple screens recording feature; support special application scenarios such as duo screens and triple screens
Video format as general MP4; easy for third-party system integration
Provide a comprehensive system operation status alarm mechanism such as client, mail, short message, SNMP, etc.
Supports soft compression based on dynamic compression algorithms and hard compression based on GPU H.264 to 265 transcoding
Provide centralized management mechanism; centralized management and parameter passing is carried out through centralized platform
Support picture-in-picture mode to monitor agent computer camera synchronously; fully monitor the service status of home agents
Provide features such as search, playback and file upload of voice, video and screen recording files
Provide standard Restful API port; allow integrate recording search or playback feature with CRM
Fully Improve Product Features:
Single terminal monitoring requires bandwidth less than 50kbps
File size for one-hour screen recording file is as low as 20MB
Single server supports 1000 registered agents with 500 concurrent recordings
Operating memory of screen recording client is less than 100MB; consume less than 10% CPU usage
Support high availability cluster deployment; a single server downtime will not cause operation interruption
Support client video recording file upload to NAS storage; support upload to a storage device then file backups through asynchronous archiving
Fully Meet Security Compliance:
Support screen watermark feature to prevent photo leakage
Support client screen recording data automatic verify and upload
Support client screen recording service and process daemon; prevent accidental stop service and end process
Support client video recording prompt; display live video recording content in client screen to prevent any illegal video recording
VCLog SoIP is able to integrate with the VoiceCyber Intelligent Quality Inspection ICCM to add in screen interaction data as record supplement for better quality inspection management. Through VCLog BI, the data aggregation analysis will be optimized and the powerful data integration analysis capability of the contact center is visualized. These products are dedicated to enhance customer service experience management level while increasing the operation and management efficiency of the contact center. Hence, the success rate of sales and marketing will be elevated eventually and contact centers are always supported by VoiceCyber products for better strategic decision making.
Since its establishment in 2001, VoiceCyber Co., Ltd. has been committing to provide contact center with the best workforce optimization solutions (WFO), with products included contact center recording and monitoring of voice, video and screen, intelligent quality inspection, business intelligence, artificial intelligence, etc.
The company has established R&D center in Shanghai, Beijing, Chengdu, Changsha with Shanghai as the headquarter. The sales and services network of VoiceCyber are spread all over the world including Shanghai, Beijing, Guangzhou, Shenzhen, Chengdu, Hong Kong, Tokyo, and Kuala Lumpur. VoiceCyber Co., Ltd. has long-term services for the financial, communications, government, transportation, manufacturing, electric power, medical and other industries.